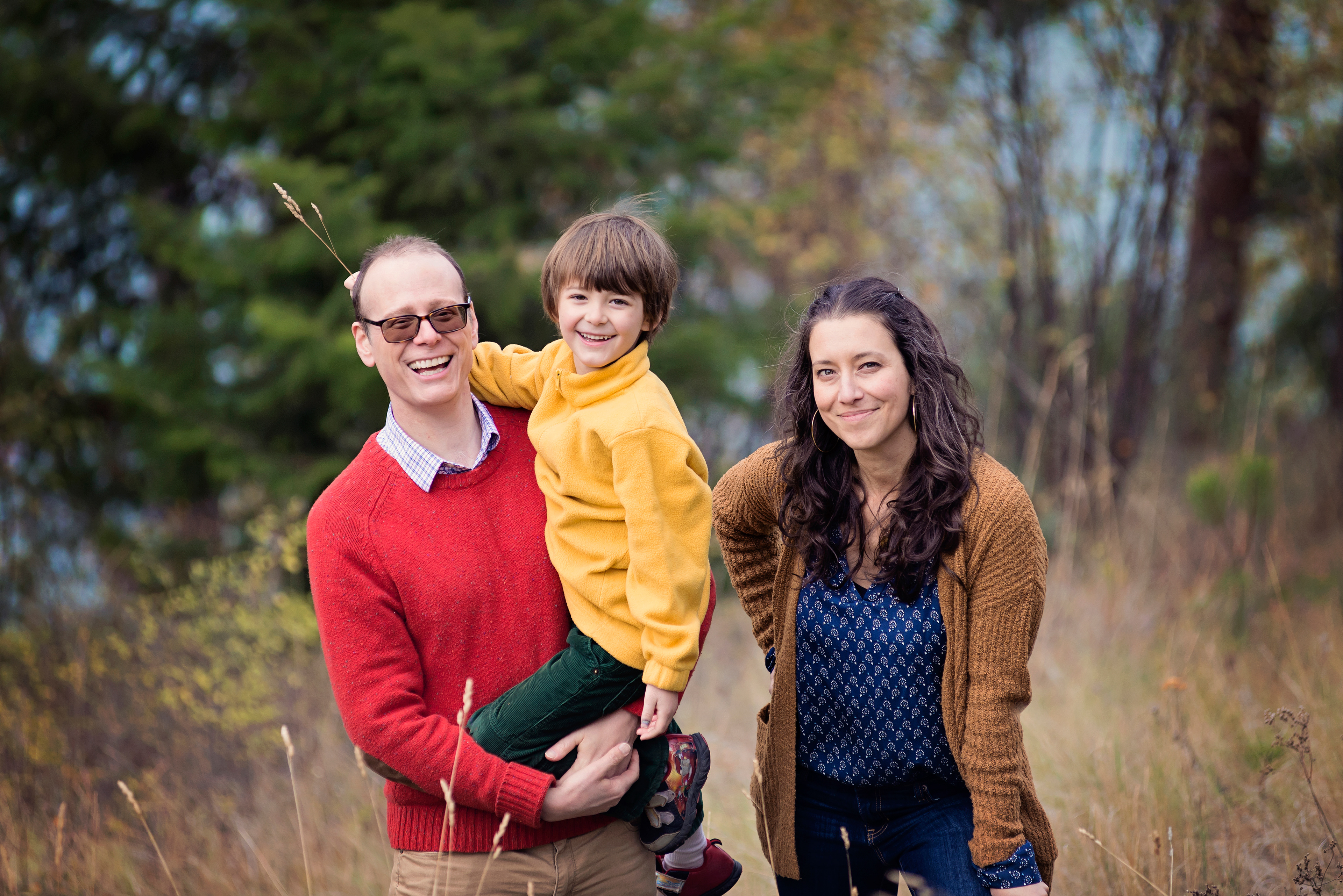 Silmara and Curtis are both partners in life and projects. They are married and live in Vernon with their son George.
Silmara is a multitalented Visual Artist, Graphic Designer and Photographer, Curtis is a Teacher and Writer. They are both Geminis and share, among many other things, the tendency to dream up ideas for projects and to work on a half dozen of them simultaneously, together or separately.
Because of the urge to make art, create and match up their talents as well as learn from one another, they started The Orange Lamphouse Studio. Not only does the studio provide them with an useful, colourful umbrella with which to group together their many ideas and projects, it also lets them expand their range of services to clients by combining the strongest of their respective skills and points of view.
Their mission is to tell stories inspired by and to inspire their little portion of the world, in their our own unique way.
They also realized that their abilities complement each other in ways that add to the quality of their work and make clients much happier. As a couple, they are always on top of ideas, clear with communication, on the ball with deadlines, mindful of quality and, not least, ready to have fun together. They work with light hearts, flexibility, and always with determination but still with smiles on their faces.
They share a love for the retro and the vintage, such as vinyl LPs, rotary phones, typewriters, snail mail letters and can't resist antique and thrift stores.
GOOD WORDS
"Silmara is an one of a kind artist! She is so passionate about photography that capturing sentiments within the shoots is natural for her. My husband and I had the privilege of being photographed by her on our pre-natal moment, when I was expecting my first child. It was more than magic! the experience itself was very comfortable, especially for someone like me who is really shy and had never been clicked in a professional way before. All the lights, backgrounds and sightseeings were thoroughly studied by her according to our personalities, so she managed to translate more than what we were expecting in gorgeous pictures! Thank you Silmara, your work will be forever not only in our family album but in our hearts"
Mariana e Tiago
"Descobri que fazer um photo shooting começa antes dele propriamente dito. Eu precisei pensar nas roupas que ia usar, nos lugares onde iríamos. E isso me pôs em um modo reflexivo sobre como eu construo minha própria imagem, como me coloco em meus espaços, o quanto quero revelar e o quanto quero deixar apenas para mim. As fotos me surpreenderam porque é muito bom se ver com uma luz incrível e com profundidade de foco: a sofisticação de uma foto bem tirada me fez me sentir especial. Obrigada pela experiência!!!!"
Mirla Fernandes in São Paulo
"As a person who likes to travel and to be photographed, I struggle to find a good photographer to capture my memorable moments. This time with Silmara though, I had a beautiful experience! She changed the way I see photoshoots, which led me to understand that memories can only be transformed into pictures when they're taken by someone with this talent - with a thoughtful look and a natural and sensible way of guiding the session. The results shows the true essence of the moment and I'm very thankful for that! I also appreciate that the photos were delivered quickly! Great work!"
Paula Campos de Oliveira, travelling in Vancouver
"Silmara is a delight. Her candid and creative demeanour put me at ease right away and I felt we were collaborating right from the start. The images she produced for my website are striking and an integral part of my brand identity. I've been getting so many compliments and client queries. She also captured some lovely couple portraits for my partner Osvaldo and I and we're both so pleased with the results. I highly recommend her for portrait and lifestyle photography."
Roberta McDonald, Writer
www.robertamcdonald.ca
"It was a pleasure and an honour to work with Silmara during my photoshoot.  She is very professional, sincere and truly skilled in her craft, which was apparent as we flowed through our session.  Precision, a personable synergy, dedication and follow-through were appreciated.  I was impressed with her competency and the quality of every photo was just perfect.  I would highly recommend Silmara for those who want a stellar representation of what  they're desiring to showcase to the world."
Delia Aaron, Mentor-Facilitator
"Whether you're a performer, business person or anyone in need of an amazing looking professional headshot, extraordinaire photographer Silmara Emde delivers on all levels. She made me feel so at ease during the shoot with her creativity and warm personality that the photos she took were better than I could've hoped for. A real pro and a pleasure to work - highly recommended!"
Maria Munro, Film Producer
"Nossa sessão com a Silmara foi simplesmente maravilhosa! Não apenas pelo fato dela tornar tudo simples, agradável, como uma visita pra tomar um café e bater papo com as amigas, mas pela qualidade e profissionalismo acima de tudo.
Para minhas filhas foi um momento de diversão, o que resultou em extra pontos para que o resultado saísse com o reflexo natural que eu desejava.
Obrigada, Silmara, essas fotos vão ficar no Hall da Fama da família!"
Andrea Barros, Mãe
"My son and I had the most wonderful experience having our photographs taken with Silmara. As someone who doesn't like having their photo taken, I was very nervous about how it would go. But Silmara is incredibly warm, with a natural ability to put you at ease, to the point that we even forgot we were having our photos taken! This meant she was able to capture the most intimate of moments between my son and I. She also has an incredible eye for creating pictures that are both stylish and unique. I feel so grateful for this experience, and will treasure my photos forever."
Megan Czerpak, Mother
"Having my portrait taken by Silmara was a wonderful experience. During the photo shoot, she quickly put me at ease with her warm demeanor. Throughout, she gave me clear instructions which made me feel less awkward, which shows in the final product. I was super happy with the final prints which she delivered to me promptly. Thank you Silmara!"
Nicky Waring, Sexual Health and Relationship Educator
"Fantastic! Beyond my expectations!"
"It's been a wild ride! Everyone talks about your cover. You are amazing."
"You continue to astound me!"
Jordan Schroeder, Book Author
"Silmara, I am very happy with the headshots you took for me and you were a delight to work with. I appreciate the care, patience and professionalism you showed throughout the process to ensure that I would be happy with the final product. You did a fine job!"
Atley Morrow, Actor
"The team at 'The Orange Lamphouse Studio' is outstanding. It comprises Silmara Emde, photographer and graphic designer, and her husband Curtis Emde, teacher, writer, and video editor. Both of them love storytelling through sound and vision. When we began planning a video to promote my book, 'Trust the Mystery: Questions, Quotes, and Quantum Wisdom', I found their process very creative: it was sufficiently flexible that it allowed me to respond with new ideas that might not have surfaced otherwise.
Both Silmara and Curtis are calm, patient, and very clear about the plan, while also staying open to new ideas in the moment. Their personal and professional skills complement each other perfectly."
Nina Shoroplova, Author of Trust the Mystery: Questions, Quotes, and Quantum Wisdom.