In 2010 I moved to Canada. I brought with me two suitcases filled with essential items including some clothes, my computer, photography equipment –– and not much more. My plan was simple: I would gradually build a home from scratch. I thought this was the most reasonable way of begin one's life in a new country.

After the honeymoon period and some adaptation, I started feeling homesick. I missed my family, friends and the familiar aspects of my homeland. That was expected. But what struck me most was that I also missed the belongings I'd left behind. I missed my things––items that apparently had no great practical importance or immediate relevance for my new life abroad. I realized that I was not as separate from my stuff as I'd supposed. 
I started talking to new Vancouver residents, as well as others who had arrived in British Columbia ages ago. We discussed our shared feelings of being far from our homelands. I asked them if they had packed anything in their personal luggage when they came to Canada that they didn't strictly need, but did so because they knew it would provide some comfort and link them to their past. I asked my fellow travellers if they felt these items produced a sense of home. Did they, somehow, preserve a vital part of their identities?
Most of the people I spoke to said yes to both questions. They told me about these little treasures. They were shy at first, but soon invited me to see them, to handle them. I then photographed these people and their special items, creating a body of work that I call
Treasures of Identity
.
Since taking these photographs, I've learned how to cope with the feelings of being in a new land, rebuilding a life. The great lesson for me was that all I need to be who I am was always there to begin with, already within myself. These talisman-like objects might bring a sense of comfort but they can be lost or so easily broken. Empowerment comes when we can let go of things without letting go of ourselves. It's not easy. But photography is there to help us bridge the gap between the need to hold onto the physical objects that ground us, and the wish to let go of attachments.
- Silmara Emde
The project was exhibited at the Roundhouse Community Arts & Recreation Center from July 3rd to September 4th 2018.
Adi keeps the watch and the wool socks that belonged to his grandfather. He also treasures a book his mother carried with her when the family came to Canada as refugees. The book had been damaged even before the move, and the reason she brought it is unknown.
Agi brought only a few things with her when she came to Canada. The most important treasure she's held onto is a ring that belonged to her grandmother, whom she'd never met. Keeping the ring, she explains, is a way "to connect with ancestors I never knew."
Alfred carries with him his first typewriter. It was a gift from his father. Alfred used the typewriter throughout college and pounded out his first works of fiction on it.
When lyrics were as scarce as hen's teeth in a developing country like Morocco in the early 70s, Ahmed Naim from a marginalized neighbourhood that ferociously fought colonialism and oppression, prioritized Bob Dylan vinyl records on other necessities. 
Not only that, he meticulously handwrote Dylan's back covers onto a "holy" notebook as a medium of spreading "words of wisdom" to classmates and I was one of many.  
I am deeply thankful and grateful to Ahmed for contaminating me with an "antivirus" of the 70s, I dare call Bob Dylan.
Daria brought from Poland a collection of fashionable dresses. She doesn't wear them very often nowadays, but she keeps them as treasures of her life in Wroclaw.
Dieter

(in memoriam)
Germany
As an apprentice engineer in Germany, Dieter constructed his own tools by hand. He kept a square as a souvenir from his life-long career. Dieter died in Vernon, BC in November 2017.
Douglas keeps a good number of Guatemalan items in his home, but the most important one is a mask. It was made by Jose, a friend of his who has passed away.
Edna left England as a young woman, bringing with her things that she'd already treasured for years, including her baby plate, some family jewellery and several albums of photographs.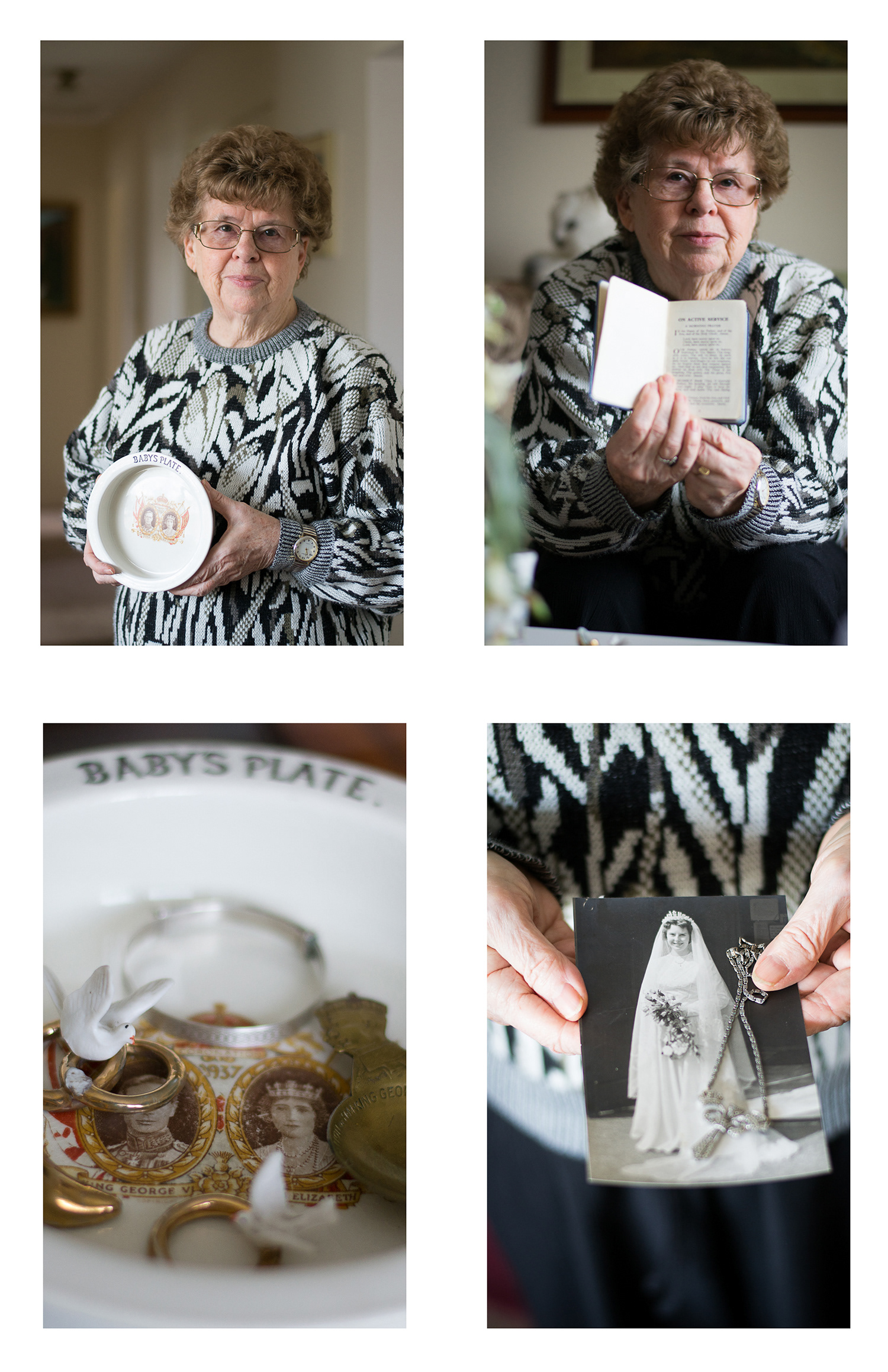 Fatemeh has a jewellery box filled with pieces given to her by her parents and grandparents. She also brought with her sacred books and decorative pieces of Iranian fabric.
Mark and his family lived in Australia for many years before settling in his wife's home country – Canada. They shipped most of their possessions, so they are, in a sense, still surrounded by reminders of their previous home. But their beloved Australian ranch was, of course, left behind in the move. He keeps a framed picture and an album full of photos as records of what was once home.
Tom has moved around a fair amount in the last few years. "Things that remind you of the people you've met and left halfway around the world become increasingly important. That's how the cards started." Tom has created his own pack of playing cards. He has people customize them with illustrations and messages. "Each one not only brings to mind a friend, but also the circumstances at the time it was drawn. They're the most evocative things I own – like a bundle of pocket memories."