Vancouver Film School 
(VFS Animation & Visual Effects Campus)
151 West Cordova Street

Hosted by Michael van den Bos
RSVP required for attendance:
Thursday, 22 September 2022––
Okanagan College, Kalamalka Campus Auditorium
Tuesday, 30 August 2022–
Slocan Lake Arts Council, Silverton, BC
                                                                                                                                                                                                                                                    Saturday, 18 June & Sunday, 19 June 2022–
Towne Theatre, Vernon, BC
Winner: Best Factual Entry (TV Fest)
Winner: Audience Choice (TV Fest)
Friday, 29 April 2022––

The Museum and Archives of Vernon, BC


Saturday, 30 April 2022––

The Museum and Archives of Vernon, BC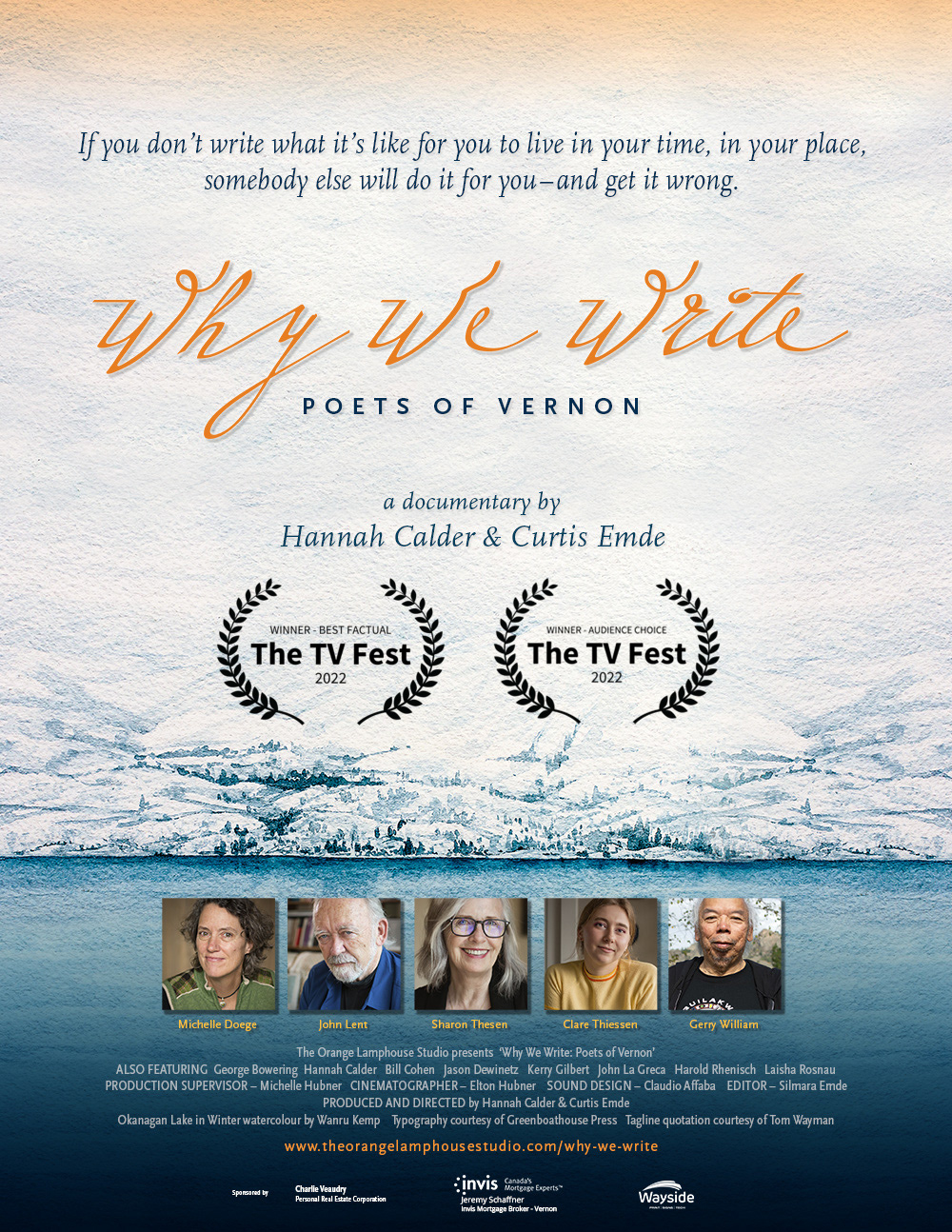 George Orwell wrote that writers are motivated by a combination of sheer egoism, aesthetic enthusiasm, historical impulse, and political purpose. Are these motivations altered in any way if the writer chooses to live on the periphery of the Canadian writing scene?
Why We Write
delves into the world of poets and bookmakers living in and around Vernon, British Columbia. The documentary explores the poetry and the lives of those who continue to assemble words far from the big city; those who continue to blacken pages despite declining readership and the noise of the digital age.
Why We Write
 unearths a thriving writing community made up of those born in Vernon, those who have chosen to move here and the Syilx storytellers who have long been on this land. 
Official Trailer
Why We Write: Poets of Vernon

A feature documentary from The Orange Lamphouse Studio
Produced and directed by Hannah Calder & Curtis Emde
Cinematography by Elton Hubner
Still photography and editing by Silmara Emde